Current List of Green Centers
Below is a list of the current MAEOE certified Green Centers by MD county. If you are a school looking for the support for the Green School application or for programs, look at the list below to find the closest center available.  For a map, see our current list of Green Schools page.
Browse by Maryland County:
Anne Arundel County
975 Indian Landing Road Millersville, MD 21108
Awarded: 2004, 2009, 2013
Arlington Echo serves as the Office of Environmental Literacy and Outdoor Education Program of Anne Arundel County Public Schools. For over 40 years they have provided an interdisciplinary outdoor education program for Anne Arundel County teachers, students, and parents by utilizing their site in Millersville as well as other satellite sites throughout the county. Each school year Arlington Echo serves over 25,000+ students and 8,000+ adults at their outdoor education facilities.
723 Second St Annapolis, MD 21403
Awarded: 2011
The Annapolis Maritime Museum educates youth and adults about the Annapolis area's rich maritime heritage and the ecology of the Chesapeake Bay through programs, exhibits and community events. We accomplish this mission through an engaging suite of hands-on programming and by bringing visitors to our unique location, at the mouth of Back Creek overlooking the Chesapeake Bay.
The education program at the Annapolis Maritime Museum annually serves more than 3,000 students from the City of Annapolis and the surrounding region. Our goal is to help students connect to the place they live, a connection that is necessary to foster a strong environmental ethic and sense of stewardship.
1361 Wrighton Road Lothian, MD 20711
Awarded: 2012, 2016
Jug Bay Wetlands Sanctuary, operated by Anne Arundel County Department of Recreation and Parks, consists of 1600 acres of tidal freshwater wetlands, forests, meadows, and fields along the Patuxent River. Jug Bay's mission is to increase awareness, understanding, and appreciation of estuarine ecosystems through education, research, and stewardship.
Located in southern Anne Arundel County, 20 miles east Washington D.C. and 18 miles south of Annapolis, the Sanctuary is a designated site on the Patuxent Water Trail.
The Sanctuary is the largest park in the system and includes one of the largest stands of freshwater wetlands on the East Coast. The wetlands contain diverse stands of aquatic plants, which are home to many bird, fish, reptile, and mammal species. The National Audubon Society has designated the Sanctuary as a Nationally Important Bird Area. To learn more about the Sanctuary, read this excellent description in the Bay Journal. The Sanctuary is one of three components within the Chesapeake Bay National Estuarine Research Reserve System, Maryland — a research and education program administered jointly by the National Oceanic and Atmospheric Administration (NOAA), Maryland's Department of Natural Resources and Anne Arundel County.
1000 Frankfurst Ave. Baltimore, MD

Awarded: 2011, 2015

What began as the restoration of an abandoned and neglected parcel of land in the Middle Branch has become something very special. Masonville Cove is 70 acres of water and 54 acres of cleaned-up wetlands, nature trails, and a protected bird sanctuary, all soon-to-be protected by a conservation easement and part of the Shores of Baltimore Land Trust. The Masonville project developed from mitigation tied to the creation of a Dredged Material Containment Facility (DMCF) by the Maryland Port Administration (MPA). This created an opportunity for the local residents and schoolchildren (from Brooklyn, Curtis Bay, and Cherry Hill) to connect with their natural environment and participate in meaningful stewardship projects related to the Masonville DMCF.
501 E. Pratt Street Baltimore, MD 21202

Awarded: 2004, 2009, 2014

National Aquarium is a nonprofit aquatic education and conservation organization whose mission is to inspire conservation of the world's aquatic treasures.

Their living collection includes over 17,000 animals from more than 750 species of fish, birds, amphibians, reptiles, and mammals all residing in award-winning, naturalistic habitats.

Transforming experiences reach far beyond Aquarium walls. Education programs reach thousands of students each year with activities in schools and in the field. The Conservation team and volunteers restore habitats and preserve species throughout the Chesapeake Bay watershed and around the world.

National Aquarium continues to act as an economic engine for tourism in the city of Baltimore and the state of Maryland. The Aquarium's commitment to serving the surrounding community is a key part of its mission.
2100 Liberty Heights Avenue, Baltimore, MD 21217
Awarded: 2006, 2011, 2015
As a Green Center, the Parks and People Foundation (PPF) is a leader in providing meaningful environmental education experiences for Baltimore through a variety of programs, teacher professional development opportunities for Baltimore City School teachers centered around environmental education and using the outdoors as a classroom, as well as assistance to schools seeking the MAEOE Green School certification or recertification. As a Green Center, PPF serves as a model to Green Schools by employing office-wide sustainable practices, such as environmentally conscious waste disposal and energy saving initiatives. Additionally, PPF acts as a community partner to Baltimore City schools seeking Green School certification. As a community partner, PPF works to provide and connect schools to a wide variety of environmental education opportunities. Being a MAEOE Green Center connects directly to PPF's mission of supporting a wide range of recreational and educational opportunities; creating and sustaining beautiful and lively parks; and promoting a healthy natural environment for Baltimore.
---
Baltimore County
11201 Garrison Forest Road Owings Mills, MD 21117

Awarded: 2005, 2011, 2015

Located just northwest of Baltimore, Irvine Nature Center is a leading environmental education center with 70,000 visitors a year. Our state-of-the-art, green building and 116 acres of forests, wetlands and meadows are perfect for students, families and nature-lovers. We look forward to exploring nature with you!
7130 Marshy Point Road Baltimore, MD 21220

Awarded: 2008, 2014

Marshy Point Nature Center is Baltimore County's pristine waterfront nature center on the Chesapeake Bay, and is part of the U.S. National Park Service's Chesapeake Gateways Network.
13555 Beaver Dam Rd, Cockeysville, MD 21030
Awarded: 2015
The Oregon Ridge Nature Center is a facility of the Baltimore County Department of Recreation & Parks, supported and assisted by the Oregon Ridge Nature Center Council, Inc., a 501(c)(3) non-profit corporation.  In addition to supporting community environmental learning and being a model for various sustainability practices, the key criterion to becoming a Maryland Green Center is helping local schools become MAEOE-certified Green Schools. ORNC is here to encourage and support schools to apply (or re-apply) for Green School Certification from MAEOE.
5425 Mt Gilead Rd, Reisterstown, MD 21136
Awarded: 2015
The Pearlstone Center's new Community Sustainability Department is the Baltimore Jewish community's pursuit of the Jewish value of preserving the earth's resources for future generations, thereby enhancing community vibrancy and our quality of life.  Our mission is to foster a more sustainable future by reducing our environmental impact and by increasing environmental-behaviors in the operations of Pearlstone, The Associated, its agencies and Jewish Baltimore.
2175 Cromwell Bridge Road Baltimore, MD 21234

Awarded: 2013

Located in a 150-year-old renovated farm house on the former Willow Grove Farm, our Nature Education Center offers plenty of opportunities for visitors to learn about nature, farming, local history, and conservation awareness. Come enjoy our collection of native turtles, frogs, toads, and snakes. Come explore the hands-on exhibits in our Discovery Room. Come learn while you play!
---
Calvert County
CHESPAX is the environmental education program for the Calvert County Public School System. CHESPAX is a unique program in which the Board of Education staff work closely with local, state and regional partner agencies to provide hands-on environmental education experiences for the students of Calvert County.
The Chesapeake Bay and the Patuxent River and other natural settings serve as living laboratories for students to use their science content and process skills to learn to make more responsible decisions regarding the natural environment. Students and teachers will also work with CHESPAX staff on a variety of special projects including energy conservation, the Green Schools program, Schoolyard Habitat improvements or serving as a resource for science fair projects and other environmentally related efforts.
The CHESPAX staff are based at King's Landing Park in Huntingtown. However, quite often you will find the CHESPAX staff at your school site assisting with some of the environmental education projects that are happening across Calvert County.
---
Carroll County
300 John Owings Road Westminster, MD 21158

Awarded: 2004, 2009, 2014

The mission of Outdoor School is to empower students to act upon their environmental knowledge and skills. Students learn about different aspects of the environment and then have the opportunity to put their knowledge in to action by participating in a service project such as tree planting to improve the riparian buffers, maintaining habitat plantings and other worthwhile projects. Upon successfully completing Outdoor School, students receive 10 service-learning hours. Students have the opportunity to earn 10 additional service-learning hours after returning home from Outdoor School. Students must complete their project and the Outdoor School Reflection Form by October 31st of their 7th grade year.
---
Cecil County
630 Tawes Drive, Elkton, MD 21921
Awarded: 2016
The Fair Hill Environmental Foundation, Inc. (Fair Hill Nature Center) opened its doors on Earth Day 1990. The Nature Center is a private nonprofit, natural history and environmental learning center annually serving over 9,000 students and adults from the Tri-State area of Northeastern Maryland, Southeastern Pennsylvania, and Northern Delaware. The FHNC's mission is to connect children and adults to the wonders of our land, water and wildlife by educating, engaging and exploring our local natural resources. The FHNC envisions a community where everyone actively appreciates and enjoys nature.
11 Horshoe Point Ln, North East, MD 21901

Awarded: 2007, 2011, 2015

A sense of adventure and an air of excitement provide the foundation for NorthBay. 

Where else can students study the lifecycle of SAV's (Sub Aquatic Vegetation) one minute and then fly over the beach on a zip line 80 feet over the Chesapeake Bay? Students will investigate the ecology of the wetlands one moment, and traverse the tree canopy in a challenging ropes course the next. At NorthBay we believe adventure motivates, stimulates and impacts a young person's educational experience like nothing else. The NorthBay design will become a wondrous place that will leave young people saying "wow!".
---
Charles County
Nanjemoy, MD
Awarded: 2010, 2014
Nanjemoy Creek Environmental Education Center, a school site within the Charles County Public School System, is located on 10 acres along Nanjemoy Creek, a tributary of the Potomac River. Thanks to a generous land-lease agreement with Mr. Richard Posey of Nanjemoy, Charles County Public Schools has been able to incorporate environmental education into its curriculum at a beautiful site which contains many diverse habitats and plenty of opportunities to experience nature first hand. Our nature trails meander through a tidal marsh, upland woods, fields and river shoreline. The creek offers beds of submerged aquatic vegetation and open waters where students can watch osprey, bald eagles, great-blue herons and many species of waterfowl. NCEEC offers students the opportunity to experience the richness of forest, coastal, meadow and wetland habitats and to explore their own connections to the Potomac River and Chesapeake Bay.
---
Garrett County
604 Pride Parkway, Accident, MD 21520    

Awarded:

2007, 2011, 2015    
---
Harford County
700 Otter point Road, Abingdon MD 21009

Awarded: 2008, 2012, 2016

As one of the facilities of Harford County Department of Parks and Recreation, our mission is to increase awareness, understanding, and appreciation of estuarine ecosystems through research, monitoring, and education.

We are one of the few remaining large freshwater tidal marshes in the upper Chesapeake Bay accessible to the public. Otter Point Creek is a shallow tributary located at the headwaters of the Bush River in southern Harford County, MD. The Otter Point Creek Component consists of two land areas (Leight Park and the Melvin G. Bosely Conservancy) connected by 261 acres of shallow open water. Leight Park is 93 forested acres owned by Harford County Parks and Recreation and home to the Estuary Center. The Bosely Conservancy is 350 acres of tidal marsh and wooded wetlands owned by the Izaak Walton League of America – Harford County Chapter.

Through our partnerships with Harford County and the Chesapeake Bay National Estuarine Research Reserve (CBNERR), we offer public, private/group, and school (including home school) programs. Program activities include canoeing, kayaking, pontoon boating, crafts, hiking, education, animal encounters, and research.
1617 Eden Mil Road, Pylesville, MD 21132

Awarded: 2011, 2015

Founded in 1991, Eden Mill is a non-profit volunteer run organization that creates and supports educational and environmental programs and partnerships for our surrounding communities. We inspire people to care about the environment by providing experiences that lead them to understand their connection to the natural world.
502 West Wheel Road, Bel Air, MD 21015
Awarded: 2005, 2009, 2014
The Harford Glen Environmental Education Center coordinates a comprehensive,sequential and participatory program of environmental education. By focusing on a curriculum that promotes awareness and understanding of the local and global environment, the Harford Glen staff seeks to produce a responsibility ethic of stewardship and sustainability in the total community by:
Providing for relevant, hands-on investigations of the local environment.
Instructing teachers in both content and teaching skills and serving as resource providers.
Promoting group dynamics, teamwork and self-confidence in student participants through a residential experience.
Managing the Harford Glen facility for maximum educational use with minimum environmental impact.
Acting as exemplary role models in environmental responsibility for the school community.
---
Howard County
10520 Old Frederick Road, Woodstock, MD 21163
Awarded: 2008, 2012, 2016
The Howard County Conservancy is a local, non-profit environmental education center and land trust. The Conservancy was founded by a group of local citizens in 1990 to help preserve the natural environment, agricultural farmland, and unique historic sites in Howard County. Headquartered at the 300 year old, 232-acre Mt. Pleasant Farm in Woodstock, Maryland, the Conservancy offers dozens of year-round educational programs for adults and children, hosts special events, provides numerous volunteer opportunities and educates Howard County residents about land conservation. The Conservancy protects land by acquiring it through gift or by obtaining a conservation easement.
6692 Cedar Lane, Columbia, MD 21044

Awarded: 2013

The Robinson Nature Center is a unique nature education facility situated on 18 acres of land adjacent to the Middle Patuxent Environmental Area, which provides over 1,000 acres of forest, meadows and river valley to explore. Geothermal heating/air-conditioning, porous paving, solar panels which generate 15% of electric needs, innovative water conservation methods and a host of other features make this building environmentally friendly and one of only three LEED Certified Platinum buildings in the State. This project was made possible through the foresight and generosity of James and Anne Robinson and the James and Anne Robinson Foundation. Come see for yourself what the center offers:

– Interactive and multisensory exhibits for all ages – NatureSphere, a digital planetarium and dome-style theater, with programs and movies – Video alcove with ViewSpace, a self-updating multimedia astronomy display – Children's Discovery Room with hands-on activities – Nature trail with arboretum and views of the Middle Patuxent River – Balcony and green rooftop for outdoor nature viewing – Classrooms and auditorium with seating for 150 people
---
Montgomery County
8940 Jones Mill Road, Chevy Chase, MD 20815
Awarded: 2007, 2011, 2015
The Audubon Naturalist Society inspires residents of the greater Washington, DC, region to appreciate, understand, and protect their natural environment through outdoor experiences, education, and advocacy.
20926 Lake Ridge Drive, Boyds, MD 20841
Awarded: 2013
Black Hill Visitor Center, located in Boyds, Maryland, is the site for Black Hill Nature Programs. The Center sits atop a hill overlooking Little Seneca Lake in the 2,000+ acre Black Hill Regional Park. Park Naturalists have explored the area in and around the Lake and have incorporated the best the region has to offer into a wide range of programs, for all ages, in all seasons.
Program participants can kayak Lake Seneca's many nooks and crannies looking for beaver, waterfowl & turtles, or they may learn how ancient peoples survived the changing Piedmont seasons
1800 Glenallan Avenue, Wheaton, MD 20902
Awarded: 2014
Brookside Gardens is Montgomery County's incomparable, award-winning 50-acre public display garden situated within Wheaton Regional Park. Included in the gardens are several distinct areas: Aquatic Garden, Azalea Garden, Butterfly Garden, Children's Garden, Rose Garden, Japanese Style Garden, Trial Garden, Rain Garden and the Woodland Walk. The Formal Gardens areas include a Perennial Garden, Yew Garden, the Maple Terrace, and Fragrance Garden. Brookside Gardens also feature two conservatories for year-round enjoyment. A horticultural reference library is located in the airy Visitors Center. Admission to the gardens is free.
13015 Riley's Lock Rd. Poolesville MD 20837
Awarded: 2010, 2014
The word Calleva means "where the paths cross," so it's a great name for a crew that gets around as much as we do!
Our mission is to get people of all ages outdoors, providing an educational and challenging environment that promotes personal growth, group cooperation and leadership skill through outdoor activities. For nearly 20 years, Calleva has built a reputation for excellence and innovation in outdoor education and outdoor adventure programming.  We are committed to continuing this tradition, building on the values that make us who we are:
Community & teamwork
Personal responsibility & empowerment
Stewardship
Tradition
Loyalty & commitment
Integrity
Curiosity
Calleva's unique blend of fun, learning and challenge helps people take risks, develop confidence, learn new skills and excel in a team environment.  In short, Calleva is helping our community raise up a new generation of leaders who will protect the best of our history and be catalysts for excellence in the future.
5110 Meadowside Lane, Rockville, MD 20855
Awarded: 2003, 2007, 2012, 2016* (Sustainable)
Our mission is to:
provide outdoor learning experiences through the MCPS curriculum that increase students ' content and process knowledge
nurture awareness, appreciation, and stewardship for the natural environment
build the capacity of MCPS educators to teach environmental education using the outdoors as a classroom
The Smith Center houses the main offices of the MCPS Outdoor Environmental Education Programs (OEEP). OEEP serves over 25,000 students in two major programs: the Residential Program in which every Grade 6 student participates and the Day Program in which PK-12 students explore and investigate the natural environment. At all programs students participate in curriculum-based environmental investigations. In addition to coordinating the environmental experiences of thousands of students each year, OEEP (Smith Center) staff provides professional development in environmental education content and pedagogy for over 500 teachers annually.
5100 Meadowside Lane, Rockville, MD 20855
Awarded: 2013
Located in Rock Creek Regional Park, Meadowside Nature Center offers hands-on natural and cultural history programs for families, schools, and scouts. Visitors can spend their time hiking our 8 miles of Nature Trails or visiting our owls, hawks, and American Bald Eagle in our Raptor Aviaries. Inside visitors can explore the diverse habits found in Maryland as they crawl through a cave or look at the world from a fish's point of view in our Legacy of the Land Exhibit. Our Curiosity Corner discovery room contains books, games, puzzles, and more live animals for young naturalists to explore nature in child-friendly environment. Visitors can also experience the lives of the Maryland pioneer and Eastern Woodland Indian families in our Legacy of the People exhibit were they can try on clothes, play games, and touch animal skins.
850 Hungerford Drive, Rockville, MD 20850
Awarded: 2012, 2016
SERT provides opportunities for all schools to participate and receive incentives and recognition for their energy conservation and recycling efforts. SERT supports a balanced environment for the integration of all students to work together in a culturally diverse environment. SERT strives to provide the resources, support, and vision of the future for a successful conservation program at each school. Promoting the connections between human behavior and its impact on the environment reinforces our culture of conservation and increases participation in our mission to conserve resources and recycle actively.
---
Prince George's County
If you are a Prince George's County School, please contact the William S. Schmidt Center in addition to any other Green Centers. See below.
2001 Bryan Point Road, Accokeek, MD 20607

Awarded: 2010, 2015

The Alice Ferguson Foundation was established in 1954 as a non-profit organization chartered in the state of Maryland.  The Alice Ferguson Foundation's educational programs unite students, educators, park rangers, communities, regional organizations and government agencies throughout the Washington, D.C. metropolitan area to promote the environmental sustainability of the Potomac River watershed.

The Alice Ferguson Foundation's mission is to connect people to the natural world, sustainable agricultural practices and the cultural heritage of their local watershed through education, stewardship and advocacy.
The George Washington House, 4302 Baltimore Avenue, Bladensburg, MD 20710
Awarded: 2011, 2015
The Anacostia Watershed Society was founded in 1989 by a small group of concerned individuals who decided that the environmental needs of the Anacostia River and its watershed communities required serious attention. Over the past 20 years, our staff and programming efforts have expanded significantly to encompass efforts in environmental education, stewardship, and recreation, as well as engaging the community through public affairs. We are making a difference, won't you help!
11000 Thrift Rd, Clinton, MD 20735
Awarded: 2015
Located within Cosca Regional Park, Clearwater Nature Center offers a variety of interpretive programs hosted by park naturalists. Environmental education is strongly supported at this facility through interesting exhibits, displays, programs, special events, clubs, trips, and volunteer opportunities. The nature center features a small indoor pond, live animal exhibits, a lapidary workshop, and seasonal gardens. Walk in on your own or visit the facility as part of a group to meet the live mammals, reptiles, amphibians, and birds of prey (including a Bald Eagle) that reside at the center.
Watkins Regional Park 301 Watkins Park Drive, Upper Marlboro MD 20774
Awarded: 2016
Old Maryland Farm welcomes thousands of visitors each year to its agricultural educational facility, barns, live farm animal exhibits, green house, orchard, fields and gardens.  Award winning livestock and sustainable methods are highlighted as you tour through the grounds.  Fun hands on and multisensory learning is incorporated into curriculum based programs for all ages.  Connecting farming to science, nutrition, conservation, math, and history a memorable interdisciplinary learning experience is created.  Programs are presented on site and in schools, hayrides, pumpkin patch, gift shop, and special events are offered throughout the year call or go online to www.pgparks.com for current schedule and fees. Watkins Regional Park features other amenities including miles of trails, a train, a carousel, playgrounds, pavilions, and a nature center.
16000 Croom Airport Road, Upper Marlboro, MD 20772
Awarded: 2011, 2015
The park offers a wide range of outdoor recreational opportunities including camping, hiking, bicycling, horseback riding, fishing, hunting, boating, kayaking, canoeing, archaeology and nature study. In addition, there is thePatuxent Rural Life Museums, a collection of late 19th century and early 20th century buildings and historic structures dedicated to preserving the rural heritage of southern Prince George's County. The park provides canoe and kayak rentals, facilities for camping and picnics, guided educational programs, and special programs and events for people of all ages. Reservations are required for most activities.
Watkins Regional Park 301 Watkins Park Drive, Upper Marlboro MD 20774
Awarded: 2016
Watkins Nature Center receives over 60,000 visitors each year for a variety of environmental education programs. Engage in close-up wildlife investigation with its resident live animals, hands-on exhibits, interpretive programs, and special events. Live animal displays include insects, amphibians, reptiles, and birds of prey. The nature center also features indoor and outdoor ponds, a songbird feeding area, a butterfly/hummingbird garden, composting area, an outdoor nest box exhibit, and a children's discovery corner . Nature hikes, campfires, animal shows, puppet shows, crafts, summer day camps, and other programs all connect our guests to their environment and the beauty of nature in their own backyard. Specialty programs are offered for school groups, scout groups, home school students, and adults. Watkins Regional Park features other amenities including miles of trails, a train, a carousel, playgrounds, pavilions, and Old Maryland Farm.
William S. Schmidt Outdoor Education Center
18715 Aquasco Road, Brandywine, MD 20613
Awarded: 2005, 2009, 2013
The William S. Schmidt Center (Camp Schmidt) is an academic center that provides students with a meaningful outdoor experience that enhances as well as reinforces skills learned in the classroom. As a result, participants have a greater comfort level in being in the outdoors as well as a greater awareness of the environment and their responsibility as citizens in making informed decisions that make the environment better.
A major focus of the Schmidt program is the fifth grade overnight visit. All schools are provided with the opportunity to visit either the Schmidt Center or Hard Bargain Farm (Alice Ferguson Foundation). Schools coming to Schmidt are assigned an Instructional Specialist who works with the school in developing a schedule of activities. The activities include but are not limited to, Stream Ecology, Dropping in on Deer, Orienteering Challenge, Nature Walk, Team Building, Problem Solving and the Confidence Course. Evening activities include a wagon ride and campfire. These activities taught at the Schmidt Center complement and enhance the existing curriculum and are aligned to Common Core, STEM (Science, Technology, Engineering and Mathematics) and Environmental Literacy.
The Schmidt Center is working on expanding learning opportunities in environmental science. The center is the site for the Envirothon, as well as promoting activities such as Bridging the Watershed, school ecology clubs, using rain barrels, and building school gardens.
---
St. Mary's County
23160 Moakley Street, Suite 101, Leonardtown, MD 20650
Awarded: 2010, 2014
Awarded: 2013
---
Talbot County
201 Boundary Lane, St. Michaels, MD 21663
Awarded: 2008, 2012, 2016
Environmental Concern Inc. is a 501(c)3 public not for profit Corporation, that is dedicated to working with all aspects of wetlands; the most productive and fascinating ecosystems in the world. After more than 40 years of providing wetland services in the Chesapeake Bay Watershed and beyond, we continue to broaden our partnership efforts. We have made significant progress in the ongoing effort to improve the water quality in the bay; yet there is still much work to be done. Protecting our wetlands is vital.
Since EC's founding in 1972, the restoration division has restored over 35 miles of shoreline in the Chesapeake Bay Watershed using the bioengineering protocol developed by our founder Dr. Garbisch. Over the years engineers and scientists at EC have refined this technique, a process that has been proven over time as an effective long term solution to control shoreline erosion. In addition the division also constructs and restores wetland facilities to improve wastewater treatment and stormwater management. We are proud to be the recipient of the largest planting contract ever sent out to bid by the Baltimore District ACOE. The EC team planted 550,000 wetland plants on Poplar Island in 2005 (one of the largest restoration projects using dredged material in the nation).
EC's education division works to increase understanding of, foster appreciation for, and encourage the stewardships of wetland systems. This is accomplished through materials/curriculum development, schoolyard habitat development and innovative outreach programs.
---
Washington County
12808 Draper Road, Clear Spring, MD 21722
Awarded:
2007, 2010, 2014
---
Wicomico County
909 South Schumaker Drive, Salisbury, MD 21804
Awarded: 2009, 2015
The Ward Museum of Wildfowl Art, Salisbury University strives to lead the way for advancing the understanding of wildfowl art and the interrelationships of art, nature and culture. Through educational programs, exhibits and events the Ward Museum builds upon the legacy of Lem and Steve Ward in order to bring young and old to a greater understanding of the human relationship to the natural world. The Ward Museum is a premier educational facility for the study of material culture, living traditions, and environmental concerns for the school children, scholars, and artists who are a part of the community the museum serves. "A good museum attracts, entertains, arouses curiosity, leads questioning and thus promotes learning."
---
Worcester County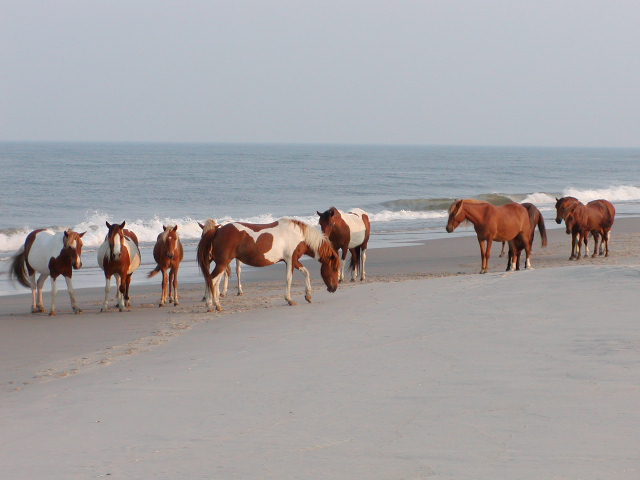 6915 Stephen Decatur Highway, Berlin, MD 21811
Awarded: 2011, 2015
Assateague State Park is Maryland's only oceanfront park. It is located on Assateague Island, a barrier island bordered by the Atlantic Ocean on the east and the Sinepuxent Bay on the west. Its two miles of ocean beaches offer swimming, beachcombing, sunbathing, surfing and fishing. The bayside offers visitors the chance to explore secluded coves by canoe or kayak. The marsh areas have a variety of wildlife, including deer, waterfowl and feral horses. Ocean City is approximately nine miles north of the park and can be seen from the island.
Awarded: 2011, 2015
MCBP exists to protect and conserve the waters and surrounding watershed of Maryland's five coastal bays located behind Ocean City and Assateague Island. Our watershed includes more than 189,000 acres of land, 71,000 acres of water, 248 miles of shoreline, and nearly 35,000 acres of wetlands. And living within its boundaries is a variety of wildlife, including 360 different types of birds, as well as more than 108 rare, endangered and threatened species.